BUILDING RESTORATION

PROJECTS

We are greatly experienced in all aspects of construction, property repair and maintenance and masonry - working with private and commercial clients on projects ranging in scale, nature and scope.

So you can rest assured that we have the skills, experience and know-how needed to successfully carry your project to completion.

Some examples of our recent project work have been displayed below. Please view our projects and remember to view our specialist work too.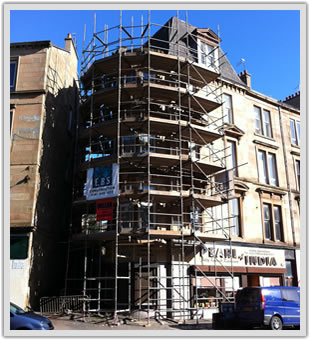 Cathcart Road
Stone masonry/rot eradication - CRGP
16 weeks - contract period
Problem
Falling masonry, resultant from steel cramps corroding and freeze thaw action and also moisture/water causing timber rot.
Solution
Replacement stone lintels and mullions, timber replacement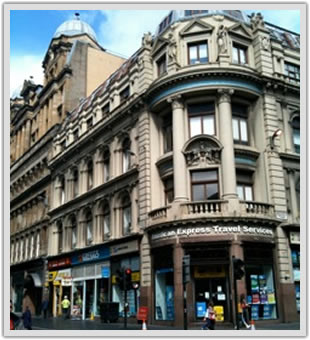 RWF House
All Trades - CBRE
26 weeks - contract period
A painted landmark facade - preparation by removing loose/dangerous masonry balusters, replacing stone, redoing mastic asphalt and lead and repainting with eco friendly micro porous paint.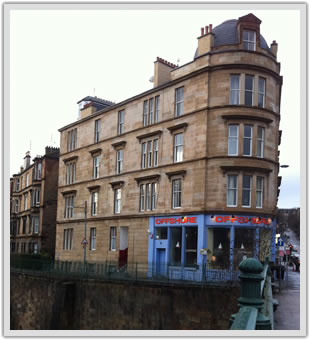 Gibson Street
All Trades - Allied Stewart & Williamson
32 weeks - contract period
A statutory repair scheme funded by Glasgow City Council.
Externally - replacement roof covering with slate, new stonework and lead.
Internally - removing and reinstating kitchens and bathrooms to access rotten structural timber.
270 Woodlands Road
All Trades - Mackie & Co.
20 weeks - contract period
Tenemental improvement works including replacement of roof coverings in slate and lead. Chimneyhead masonry work, repairing and lime repointing externally. Internally; rotwork incorporating all trades from disconnect and reconnect, sash and case window overhaul, Close structural steelwork and redecoration.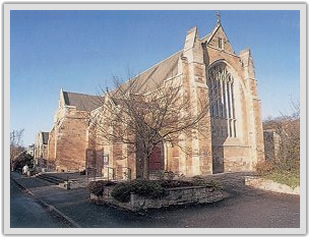 Newlands South Church, Newlands
We undertook the sympathetic restoration and conservation of Newlands South Church.
Replaced Eroded Stone
Overhauled Cast Iron Rainwater Goods
Re-painted
Repaired Internal and External Window Tracery
Structural Repair of Rear Elevation
Slate Roof Replacement
Completed: 1995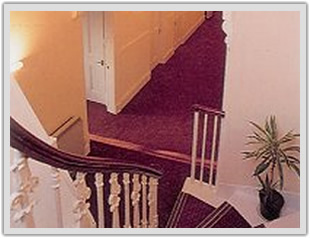 10/12 Partickhill Road, Glasgow
We carried out the complete internal refurbishment of 28 individual apartments within this traditional tenement property in Glasgow's stylish West-End.
Internal and External Decoration.
New Hardwood Windows, Doors and Screens
New Internal Lighting
Central Heating Installation
Rot Eradication
Plumbing
Plastering
Supervisor: Project Management Partnership
Completed: 1997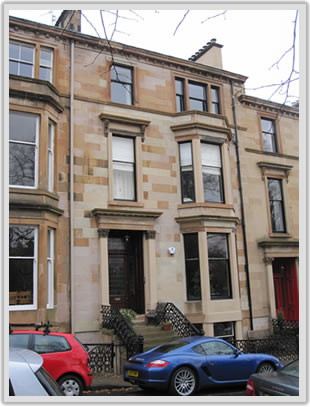 5 Huntly Gardens, Glasgow
We refurbished this stylish West End townhouse which had received a Glasgow City Heritage Trust Grant.
Complete Refurbishment
Slaterwork
Lead Works
Decoration
Replacement Cast Iron
Supervisor: Fiona Sinclair - Architect
Completed: Summer 2008
33 Saltoun Street/26 Roxburgh Street, Glasgow
We undertook the complete fabric repair and masonry repairs to this traditional West-End property that was the subject of Avril Paton's famous art work 'Windows in the West'. Grant funded by Glasgow City Council.
Fabric Repair
Masonry Replacement
Masonry Repair
Chimney Head Repair
Decoration
Lime Mortar Pointing
Supervisor: Paul Barham - John Gilbert Architects
Completed: 2005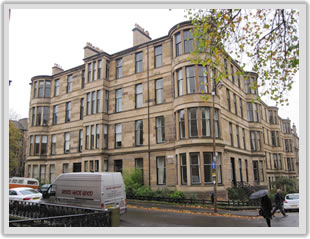 12 Queen Margaret Drive, Glasgow
We carried out the comprehensive repair and refurbishment of this traditional West-End property. We used natural and imported slate, lead and natural stone throughout the project.
Comprehensive Repair and Refurbishment
Masonry Replacement
Masonry Repair
Cast Iron Rain Water Goods
Reslate
Lead Sheet Replacement
Chimney Head Rebuild
Supervisor: Robin L.B. Hagart - Chartered Surveyor
Completed: Spring 2008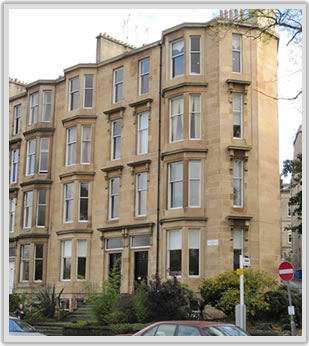 The Ark, Battlefield
We undertook the complete sympathetic external refurbishment of the historic former Jewish Synagogue in Battlefield as it was re-developed into residential flats now known as "The Ark". Work was funded by Arklet Housing Association with grant aid from Communities Scotland.
Complete External Refurbishment
Specialist SBR
Render Coating
High Performance "Dekguard" Coating
Supervisor: Fiona Sinclair - Architect
Completed: Spring 2009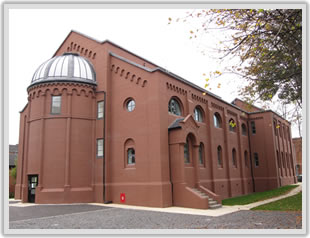 St Simon's Partick
We carried out the fabric repair and external refurbishment of St. Simon's, Partick, formerly St. Peter's church in Partick in a project part funded by Historic Scotland. We entirely re-roofed and extensively repaired this Grade A listed property.
Fabric repair
External Refurbishments
Re-roofed
Extensive Repairs
Supervisors: Doig & Smith Chartered Surveyors
Completed: Spring 2007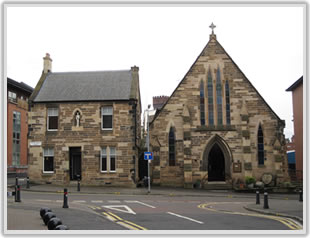 Kelvingrove Street / Argyle Street, Glasgow
Working to meet the exacting requirements of the Planning Department we carried out complete rot eradication, windows and roof replacement and extensive stone indenting and replacement.
Complete Rot Eradication
New Roof
Replacement Windows
Stone Indenting and Replacement
Lead Work
Supervisors: Ross and Liddel
Completed: Spring 2009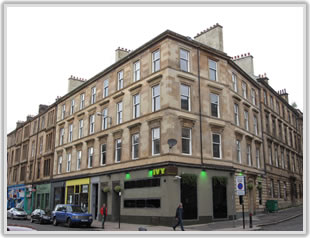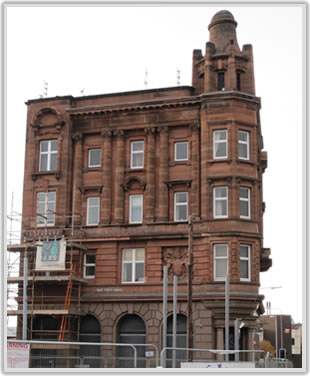 The Potted Heid, Govan Road
We completely refurbished the historic Govan landmark 'The Potted Heid'.
Extensive Refurbishment
Replacement Flat Roof
Structural Reinstatement
Supervisor: Allied Stewart & Williamson
Design: Assist Architects
Completed: Summer 2009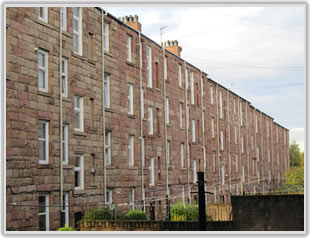 Tollcross Road, Tollcross (65 Closes)
We carried out comprehensive masonry repairs to properties along Tollcross Road. We worked with Tollcross Housing Association and their scheduled programme and cost plan, to complete work over a 3-5 year period.
Comprehensive Masonry Repairs
Roof Replacement
Gutter Replacement
Rot Eradication
Supervisor: David Hastings - Chartered Surveyor.
Completed: 2005 - 2010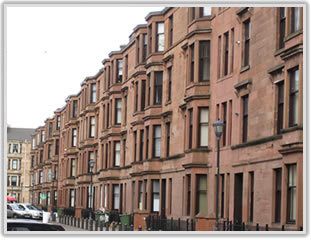 Linthouse Housing Association
We carried out the extensive fabric repair of 13 closes for Linthouse Housing Association. This project grew hugely in size and was still completed ahead of schedule.
Extensive Fabric Repair
Stone Indenting
Structural Repair
Masonry Repair
Supervisor: Armour Construction Consultants
Completed: 2009
James Miller House
We sympathetically restored this rare landmark building constructed from Portland (lime) stone. Work was completed before the millennium and remains impressive today.
External Facelift
Facade Restoration
Masonry Conservation
Brass Refurbishment
Supervisor: MacPherson and Bell Architects
Completed: 1999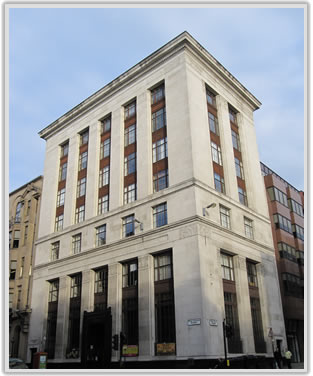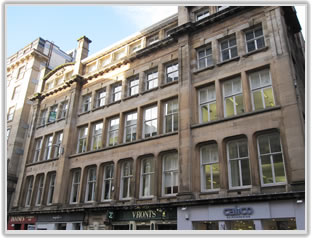 45 West Nile Street, Glasgow
We undertook the complete external refurbishment of this 19th century building. We worked across several external elevations simultaneously.
Fabric and Masonry Repairs
External Refurbishment
Lime Mortar Pointing
Skew Cope Replacement
Supervisor: Jones Lang LaSalle
Completed: 2003
The Atheneum Building, West Nile Street, Glasgow
We carried out extensive and complex structural repair work to the landmark Atheneum building on behalf of CBRE for the CAA Pension Fund.
Structural Repair Work
Facade Repair
2 Part Polysulphide Mastic
Lime Mortar Pointing
Supervisor: David Guy - CBRE
Completed: 2009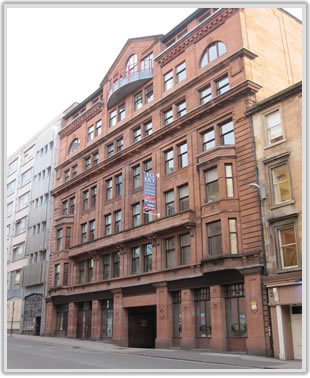 Post Office, Buchanan Street
We replaced the roof and masonry of this Grade A listed, landmark Victorian Post Office Building.
Masonry Replaced
Roof Replaced
Balustrade Replacement
Major Lime Mortar Point
Decoration
Fungicidal Wash
Supervisor: Keynorth
Completed: 2003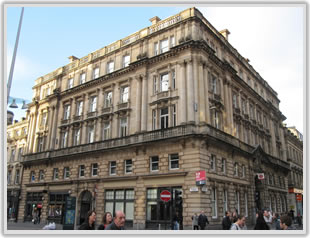 Royal Bank of Scotland, Gordon Street
We carried out a number of specialist repairs to this Grade A listed building on Glasgow's busy Buchanan Street. We replaced the building's ornamental balustrade, leadwork and roof coverings. We also undertook external fabric repair and decoration work.
Replacement of Ornamental Balustrade
Replacement Leadwork
Replacement Roof
Decoration
External Fabric Repair
Supervisor: Jones Lang LaSalle
Completed: 2001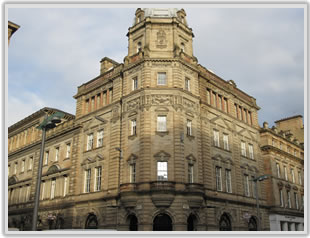 Rowan House, Buchanan Street
We extensively refurbished the iconic Grade A listed Rowan House after it had become dilapidated following a long term let. We worked with the building's owners, British Airways Pension Fund, to restore Rowan House to its former glory.
Paintwork Removal
Masonry
Extensive Repairs
Slate Replacement
Water Proofing/Tanking
Redecoration
Supervisor: Jones Lang LaSalle
Completed: 2006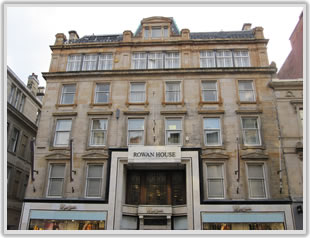 Puma Shop, Buchanan Street
We carried out an extensive fabric repair scheme on this centrally located Grade A building. We also dismantled and re-erected feature gable chimneyheads despite the difficulty of gaining access to this city centre property.
Fabric Repair
Dismantle and Re-erection of Gable Chimneyheads
Gable/Chimney Head Rebuild
Supervisor: Drivers Jonas
Completed: 2008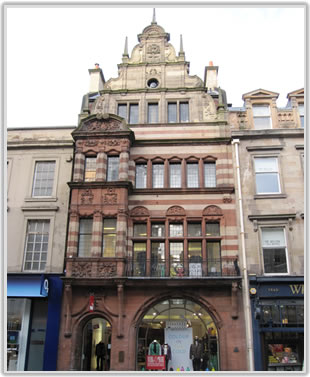 Triumphal Arches, Royal Exchange Square
We have carried out masonry repairs, on behalf of Glasgow City Council, to these Grade A listed landmark arches that frame Glasgow's stylish Merchant City.
Masonry Replacement
Fungicidal Wash
Lime Mortar Pointing
Supervisor: Ross McDermott DTZ
Completed: 2009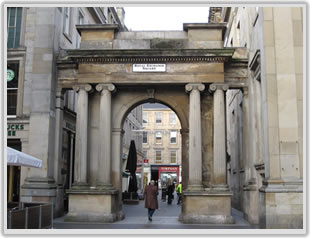 The Western Club, Royal Exchange Square
We undertook the sympathetic refurbishment of this Victorian Grade A listed city centre property. We repaired eroded features and stonework.
Sympathetic Restoration Work
Replacement of Eroded Stone
Supervisor: Anne-Marie McGrath -Watt & Partners Chartered Surveyors
Completed: 2006
Dumbarton Road, Dalmuir
We undertook the extensive repair and waterproofing of 5 tenement closes owned by Dalmuir Park Housing Association. The property's southerly facing elevations had been exposed to water damage. Our weather proofing service has repaired, maintained and extended the property's life cycle.
Extensive Repair
Weather Proofing
Supervisor: John MacMillan - The Planned Maintenance Consultancy
Completed: Summer - Autumn 2009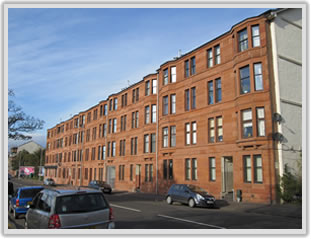 275 Golfhill Drive
Masonry weather proofing
GRC structural channel covers
Extensive stone remedial work
Supervisor: MacKie & Co.
Completed: Summer 2009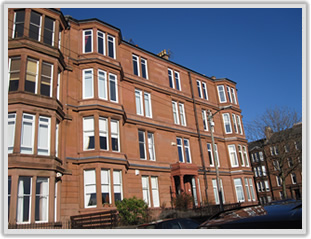 6 Firpark Terrace
Gable end weatherproofing
Leadwork to channels
Masonry work
Supervisor: MacKie & Co.
Completed: Autumn 2009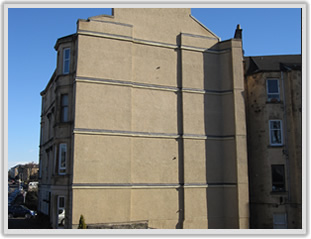 3 Annette Street
Total Refurbishment of 8 flats including structural alteration
Supervisor: MacKie & Co.
Completed: Summer 2009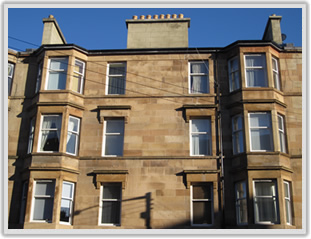 Chroma Building (Formally Langside College)
Residential development
Extensive masonry work
Lime mortar repoint
Developer: CBRL and Abbey Developments
Completed: Autumn 2006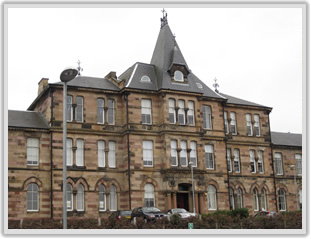 Domestic Work
Merrylee Road, Newlands
Mr and Mrs Newman.
Reroofing in new natural slate and lead, lime mortar pointing and repair.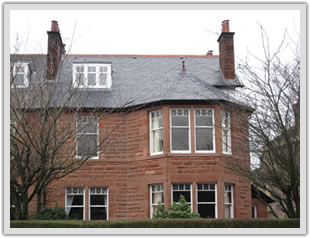 Tavistock Avenue, Newlands
Mr Ian Watson.
Chimneyhead take down and rebuild, and repoint all elevations using tinted lime mortar.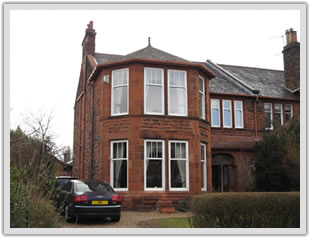 Beverley Road, Newlands
Mr Matthew Reilly
Lead skew replacement, valleys, cast iron gutter replacement, lime mortar pointing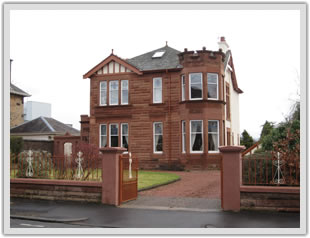 36 Mitre Road
Joinery work
Lime mortar pointing
Stone repair
Cast iron replacement
Scaffolding
Client: Mr & Mrs Ross
Completed: Summer 2008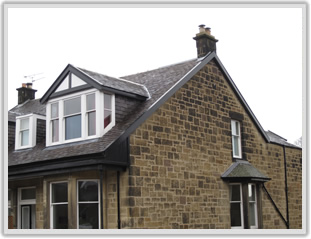 10 Manor Road
Lime mortar pointing
Masonry repair
Re-roof
Timber Fascia Replacement
Client: Mr & Mrs Bennett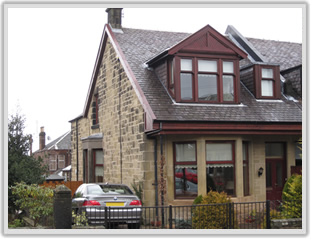 Please get in touch now for more information on these projects or to find out how we can assist you with a project of your own.